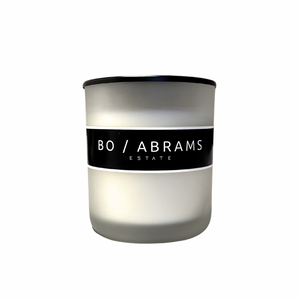 An alluring journey for the senses, this premier fragrance for the Bo/Abrams Estate is the perfect blend of hard and soft elements wrapped in a highly sensual organic envelope.
"Intensely romantic yet…powerfully calming, these specific fragrance notes are meant to take you to a familiar place where you feel warm and fuzzy, or remind you of your happy place. This could be a spa, a forest, the beach, your comfortable bed- wherever you find your zen space." -Shawn Bo Abrams
This is a collaboration combining our passion for romanticizing every day experiences with the reputation of high standard candle manufacturing that OAK & WAX is known for. 
[Fragrance Notes]
Vetiver- herbal, refreshing
Amber- warm, indulgent
Wood- nostalgic, comforting
This two-wick 12oz candle comes in a frosted glass vessel with matte black lid.